May 2017 sees the start of a new series of guided Midsomer walking tours of Thame, one of the most frequently used filming locations for the popular ITV series Midsomer Murders. The hour-long tours will be held weekly, led by specially trained Midsomer guides, and taking in many of the filming locations in the town centre that have been used in episodes of Midsomer Murders.
Thame regularly features, either as Causton, or as any one of the many villages in the fictional 'Midsomer County'. Midsomer Murders is still going strong after 20 years with regular screenings, not only in the UK, but all over the world. Sarah Osborne of Tourism Angles, specialists in Midsomer tourism, says, '6.5 million people watch Midsomer Murders in the UK and millions more in over 100 countries worldwide. The series is one of the UK's biggest TV exports - rating in Denmark's top 3 and Australia's top 20. People see it on TV and want to come and visit the beautiful towns and villages of Midsomer.'
Four of the new Midsomer tour guides: l-r, Tony Long, Errol Bateman, Elaine Harrison, Bernadette Tildesley.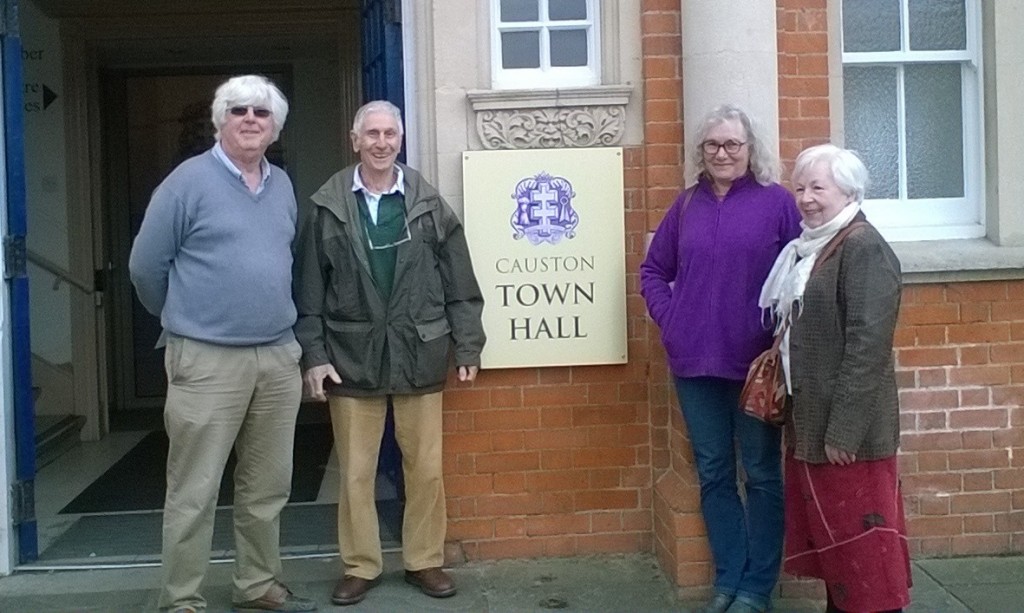 Many Thame landmarks have been featured in different episodes over time, including Thame Town Hall, the Market House, Rumsey's Chocolaterie, the historic Swan, Black Horse, and Spread Eagle hotels, plus other locations. Thame's cricket ground and Prebendal House were recently featured in filming for future episodes.
Tony Long, coordinator for the new tour guides – who are all volunteers, said, 'The tours have been in development for several months, and follow on from the original tour which was created by David Dodds of Thame Museum. The tours are being held under the auspices of 21st Century Thame, an organisation that brings together local businesses, community groups and councils to help keep Thame vibrant and viable as a market town.
Tony continued, 'The tours take place weekly between May and October, alternating between Saturdays at 2.30pm and Wednesdays at 11.00am, and start from inside Thame Museum (79 High Street, Thame, OX9 3AE), one of the filming locations, taking in many locations in the town centre. We hope these tours will add a new facet to tourism in the town, attracting more visitors from the UK and overseas to the historic town of Thame.'
Tickets cost £7.50 each and may be purchased online here. Alternatively, you can simply turn up on the day and pay the guide. Part of the proceeds from Midsomer tours goes to Thame Museum and other charitable causes.
As well as buying tickets online, you can also use computer terminals at the Town Hall Information Centre (open 9am – 5pm Mon to Wed, 10am – 5pm Thurs, 9am - 4pm Fri, closed weekends), or purchase tickets at Thame Museum (open 10am - 4pm Tue, Wed, Sat, and 12pm - 4pm Sun).
If the regular tour times don't fit in with your itinerary, tours at other times can be arranged for groups of at least 5 people or more. For more information about bespoke tours, please email [email protected].
A new leaflet about the Midsomer Walking Trail is available to download here. This covers both Thame filming locations and Midsomer locations in neighbouring villages. It will be available in a printed version at Thame Town Hall Information Centre and Thame Museum, as well as at hotels, pubs, shops and cafes in the local area.