Guided location tours
You may be a huge fan of DCI Barnaby and keen to visit Midsomer. Sometimes it's nice to sit back and leave the detailed information, tour planning and driving to someone else.
There are many ways to enjoy Oxfordshire's Midsomer Murders locations, including guided walks, escorted day trips and staying tours. Combine the most popular and beautiful locations with a professional and knowledgeable local expert while you sit back and enjoy the views.
To make a booking or enquiry please contact the relevant company direct using the links below.
Midsomer Tour Guides
Locally available guides offer a variety of Midsomer tour options:
Join your group on a coach for a full day tour of Midsomer
Provide a one hour walking tour of Henley, Thame, Dorchester or Watlington
Provide customised tours for individuals/small groups
Put together tour itineraries for coach companies wanting to offer Midsomer tours
Guided Tours
Henley-on-Thames has some iconic filming locations that lovers of the show will be sure to recognise. Come and see the real locations for the Causton Auction Rooms, seen in The Black Book, and Anton Thorneycroft butchers shop seen in The Magicians Nephew.
Midsomer Tours offer personally guided tours of Midsomer filming locations, which include the area's history and local information. The group offer a range of customised, pre-booked tours, including one hour walking tours around Henley-on-Thames and Dorchester, and half day and full day tours. The tours are all fully customizable and can be adapted to suit your needs.
The group are currently working on putting together a separate tour of Watlington, and some tours are possible in French and German. Midsomer Tours Blue Badge Guides can also join your coach for a half-day, a full-day, or for the duration of your holiday. They have knowledge on many other nearby locations, including Oxford, the Cotswolds and Windsor.
To pre-book a Midsomer tour, please contact Graham of Midsomer Tours or call 07827 715353.
Midsomer countryside walks: Get a breath of fresh Midsomer country air, with Midsomer guide, Anthea, and take in some of the spectacular views you see in the series. Available for small or large groups.
Midsomer Guided Cruise: Hobbs of Henley offer Midsomer tours by private charter for groups, click on this link for more info.
Loddon Brewery is a craft brewery in the pretty village of Dunsden Green and a filming location for the series. Its first appearance in 'Night of the Stag' led to the brewery developing a beer of the same name. The brewery offer a tour and tasting for groups, by appointment, or you can turn up at the Brewery Shop (Mon-Saturday) to buy a bottle or two and have a look around. To pre-book a group tour, contact [email protected]
Thame is one of the most frequently used filming locations for the series. The town regularly features, either as Causton, or as any one of the many villages in the fictional Midsomer County. Many Thame landmarks have been featured in different episodes over this time, including Thame Town Hall, the Market House, Rumsey's Chocolaterie, the historic Swan, Black Horse, and Spread Eagle hotels, together with many other locations.
Guided walks of Thame Midsomer locations take place weekly on Wednesdays at 11.00am. Each tour starts at Thame Museum, one of the filming locations (located at 79 High Street, Thame OX9 3AE) and takes in all the varied locations in the town centre. The one hour tours are led by specially trained tour guides, costing £7.50 per person. Ad hoc tours on other days of the week can be arranged independently by emailing [email protected]
Tour dates 2018: Each Wednesday from 4 April - 31 October
You can buy tickets online here, as well as in person from Thame Museum (click here for opening times), and Thame Town Hall Information Centre (click here for opening times). You can also turn up at Thame Museum at the advertised time each Wednesday and pay on arrival (cash only).
All the information is contained in a handy leaflet, available to download here.
If these regular tour times don't fit in with your itinerary, tours at other times can be arranged for groups of at least 5 people or more. For more information about bespoke tours, please email the tour organiser, Tony Long, at [email protected].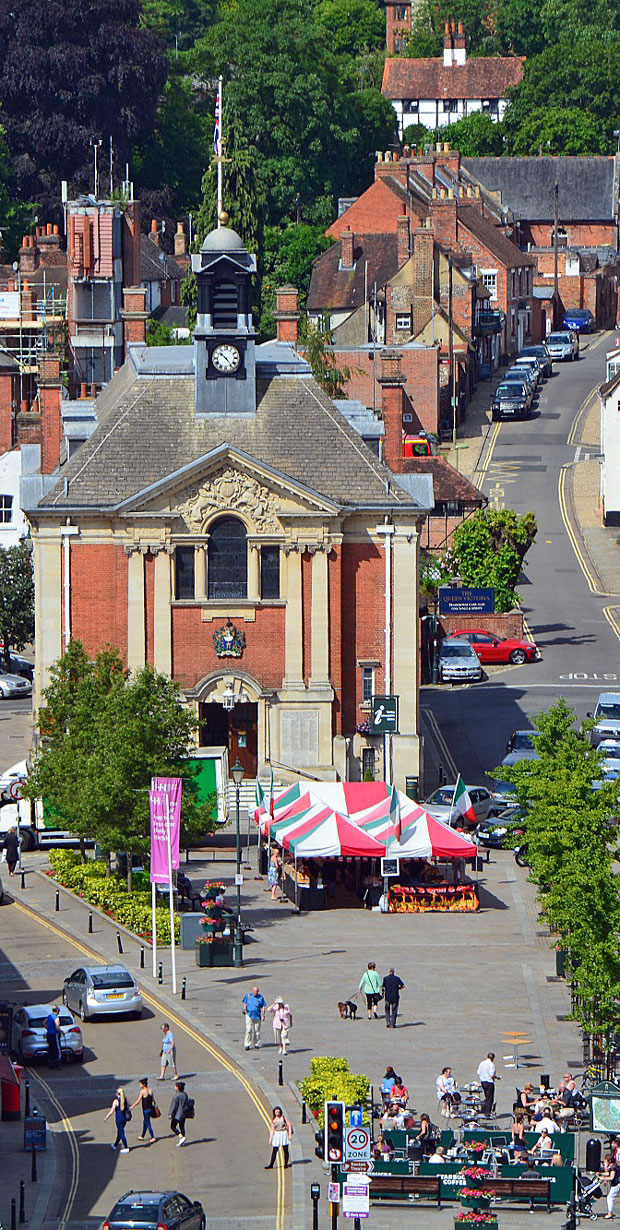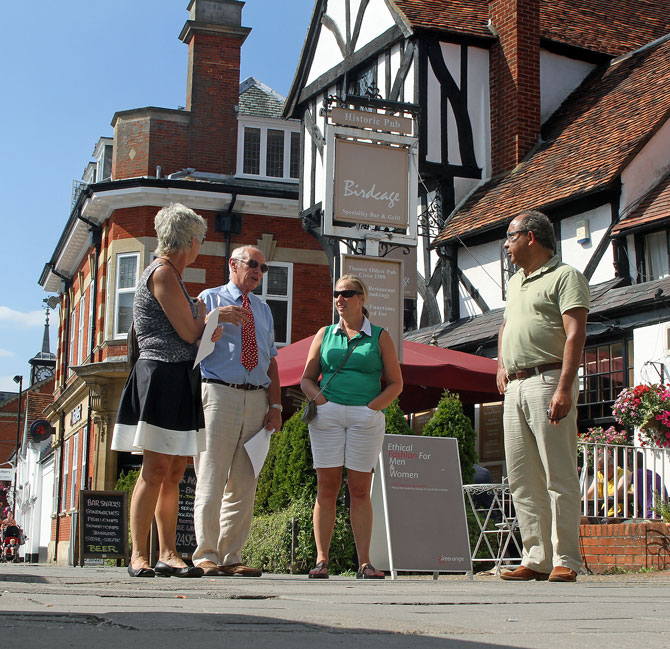 Day Trips: from Oxford / Oxfordshire

Take one of our tours to Midsomer County. Choose favourite episodes and see the streets and buildings featured in this dastardly devious T.V. drama. Visit Causton town, sit on the Kirkbridge green where Morris men dance on Judgement day. Drive through Midsomer Worthy and Wellow and have lunch in one of the featured village pubs. We can collect you at local rail stations in the middle of Midsomer or start from Oxford tourist information. London collection available.
Contact SHO4Travel.

Follow in the footsteps of DCI Barnaby and the perpetrators of the numerous murders in Midsomer. We have designed memorable 1-day and 2-day luxury Midsomer  experiences and will escort you through the countryside of quirky cottages, ancient churches, cosy pubs and charming village greens that feature in the magical, but rather deadly, county of Midsomer.
Contact Humphreys of Henley.

Do you or your club, society or business wish to organise an outing, weekend or holiday break with a Midsomer Murders theme? Discuss your requirements for a personalised tour of the area's locations covering all your favourites.
Contact Detective Tours.

Oxfordshire is famous as the scene of many crimes, both fictional and real. On this Truth is Stranger than Fiction tour, Midsomer Murders fans will enjoy discovering locations like Wallingford Market Place, Rotherfield Peppard and Henley on Thames.
Contact Experience Oxfordshire.
Tailored Tours UK have 14 years experience of Midsomer tours, always bringing fun to any tour with enthusiasm, care and an attention to detail. The service can be personalised to suit your
Day Trips: Leaving from London
Our Midsomer Murders Tour transports you into the charming yet sinister world familiar to DCI John and Tom Barnaby and uncovers the real locations that have given the show its distinct character since it was first

broadcast in 1997. Public scheduled and private tours lasting nine hours are available from both central London and Oxford and include plenty of stops for photos and to see the locations up close.
Contact Brit Movie Tours.
Staying a bit longer?
Crusader Holidays logoExplore lovely Oxfordshire with your detective hat on! This special 4 day Midsomer Murders & Morse holiday meanders through many of the picture-postcard villages and hidden gems featured in the series "Midsomer Murders". Based near Wallingford, it includes a guided walking tour of Morse's Oxford.
Contact Crusader Holidays.
Select Travel Services - Specialist Group Tour

Groups coming to England from overseas and wishing to spend a few days exploring Midsomer can book an all-inclusive stay package of 5 days/4 nights. Relax and enjoy some of the eccentricities that are part of English rural life on an itinerary rich with historic hotels, pubs serving local beers, restaurants serving local food and independent shops and cafes. This tour is only available for groups from overseas visiting the UK.
Contact Select Travel Services.
A number of companies offer scheduled 1-4 night Midsomer tours, both in the UK and abroad so we suggest doing a google search using the following keywords:
Shearings, Crusader Holidays, National Holidays , Titterington Holidays, Edwards Coaches, G-Line Holidays, Leisuretime Coach Holidays, British Tours, Alfa Tours. These companies have run Midsomer tours in the UK over the past couple of years.