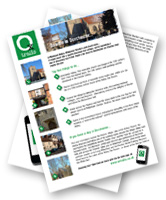 OxTrails promotes the local area's fabulous food, great outdoors, literature connections, history, and film locations. If you want to explore a bit more about the real life area providing the scenic backdrop to your latest 'Midsomer Murders' episode these maps, themed trails and suggested itineraries are a terrific starting point.

For smart phone users there are free Apps available for apple and android phones. Get the OxTrails maps and day itineraries along with suggested activities - the app lists everything from taking to the skies gliding to olive oil tasting, WWII bunkers to blockbuster movies. In fact it's the perfect accompanyment to your 'Midsomer Murders' short break.
Take a look at OxTrails to see why the Midsomer Murders producers keep coming back to the area for filming.

What's waiting to be explored?
OxFood covers local deli's, breweries, tea rooms and food experiences

OxHistory covers battles, castles, museums, spies and industry

OxOutdoors covers fishing, flying, riding, gliding, watching, waiting and investigating

OxLiterature coversprinting through to reading in a cosy corner, cover to cover

OxFilm covers Oscar winners to lunchtime telly and back